The Portable Miniature Enlarger was an exception to metal construction, with a Bakelite body mounted on a metal post; the outfit included an integrating dedicated case and was probably attractive as much because, for those whose darkroom was a darkened bathroom, the case provided a safe and compact place for the enlarger when it wasn't set up.
The Advance Enlarger was described by Kodak as "not as pretentious" as the Precision. It will handle negatives up through 3 1/4 x 4 1/4 and has a base and post arrangement similar to that of the Precision, has a diffusion type head and a combination negative carrier that uses masks. The primitive set of paper clamps in the baseboard creates only two-sided borders.
The Kodak Autofocus enlarger allows resizing without refocusing in a range of 1.5x to 3.5x. In manual focus mode it works in a range from 2.25x to 12.25x. It handles negatives up to 4 x 6 and has two illumination levels. Both of these enlarger models appear in a c. 1940 Kodak publication, but were not listed in a 1948 brochure on Kodak enlarging equipment.
In the 1950s, the downsizing of film stocks, European competition and Kodak's drift away from the quality camera market showed in its enlarger offerings. The Kodak Flurolite replaced the small Precision configuration and was generally equivalent in quality with a similar list of accessories. A new entry level Kodak Hobbyist, with minimal features, was introduced. Both had coldlight heads that reduced heat transmitted to negatives.
The Precision Enlargers were built around a modular design and both the 6 x 9 cm model and the 4 x 5 inch model shared a common post and base design. The lens board, bellows, negative gate and heads were different. This design also allowed Kodak to make and offer many accessories, including interfaces to film holders and Kodak cameras that could be used for copying and tabletop photography.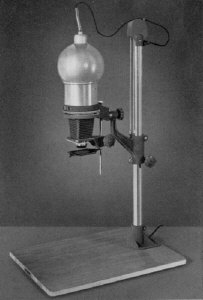 Kodak Precision Enlarger
with A Assembly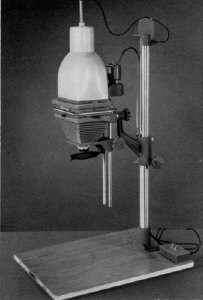 Kodak Precision Enlarger
with B Assembly